Police Officer Christopher Goodell
The Waldwick Police Department and PBA Local 217 would like to thank borough residents and the community at large for the overwhelming show of support in our time of sorrow. We would also like to thank our brothers and sisters in the law enforcement and first responder communities. This outpouring of love and support for the police department allowed us to honor Officer Goodell and be there for his loved ones. We will always be grateful.
A scholarship has been created in honor of Officer Goodell. In lieu of flowers donations may be made to the following:

The Christopher Goodell Scholarship Fund
c/o PBA Local 217
P.O. Box 166
Allendale, NJ 07401
Mission Statement:

The members of the Waldwick Police Department will work to ensure that the safety and property of all persons in the Borough are safeguarded. We will provide this service to all residents, and anyone who may visit our community, on an equal basis. Those we come in contact with will be treated with a high level of dignity, compassion and professionalism.

We recognize that our basic responsibility is
to enforce the law and understand that our police powers are derived from the people we serve through the Constitution and the Bill of Rights. We appreciate the importance and responsibility of our positions and strive through education, self-improvement, and the use of all available resources to provide effective, efficient, and timely police services.

Deterring crime, problem solving, and an overall reduction of fear will be of the utmost importance in our effort to promote confidence and respect amongst the members of our ever expanding and diverse community. The Waldwick Police Department's interaction with the public will always be with the intent to enhance the quality of life within the Borough.

Value Statement:

To treat citizens and co-workers with compassion and respect in a consistent and predictable way regardless of rank or social status.

To always be receptive and open minded to change in the community and our work environment.

To conduct ourselves as professionals and to always be accountable for the actions we take.

"Public Service with Honor"
Compassion

Courage

Honesty

Integrity

Fairness

Respect
Project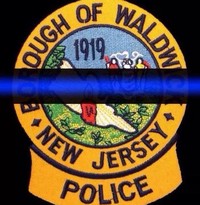 Medicine Drop: The Waldwick Police Department has joined the New Jersey Division of Consumer Affairs in an effort to halt the diversion and abuse of prescription drugs. A new mailbox style drop box has been installed in the lobby of the Waldwick Public Safety Complex. Residents are encouraged to anonymously deposit unused or expired household medications into the Project Medicine Drop Box, 24 hours a day, 7 days a week, 365 days a year. This opportunity prevents unused medications from falling into the hands of those who might abuse them. The drop box accepts household medications only: pills, capsules, and pet medications are the only item accepted. Syringes and liquids cannot be accepted.
Firearms Documents
Megan's Law